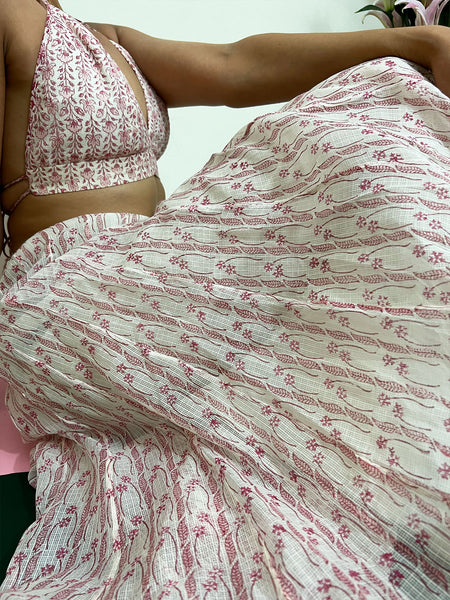 Flared Pants -White and Pink Floral Blockprinted Kota Doria
This wide-flared pant, with plenty of volume through the legs, in a delicate gauzy handloom Kota Doria fabric with handblock printed floral print, is a head turner- the statement that makes an impression when you walk into a room.  
These pants have been inspired by four lines in Maya Angelou's iconic poem, Phenomenal Woman:
"The span of my hips, 
The stride of my step
and
The swing in my waist
And the joy in my feet.
So if you want to channel your inner Phenom, try these pants on for size!
CRAFT HERITAGE

The art of weaving Kota Doria cotton has been passed through generations of weavers in Kota, a town situated in eastern parts of Rajasthan, India. The unique "khat" or squared check pattern of this handloom woven fabric is unlike any other textile. The word "Doria" comes from the Hindi word, "Dori" which means threads.
The Kota Doria fabric for this dress has been sourced right from the source in Kaithun, Kota, from an social enterprise that trains women weavers to produce this delicate fabric.
The floral blockprint is an Ayesha original and has been developed by fifth- generation , Indian National Award winner master block printer, Santosh Kumar Dhanopia of Sanganer, Jaipur.
Wide-flared pants with delicate floral motifs blockprinted on fine Kota Doria handwoven fabric with lining.
Has an elasticated waist at the back.

Comes with pockets.
COMPOSITION & CARE
100% Handloom cotton. Hand wash cold with similar colours. Do not bleach. Do not soak.  Do not wring. Dry in shade in reverse. Iron on reverse.