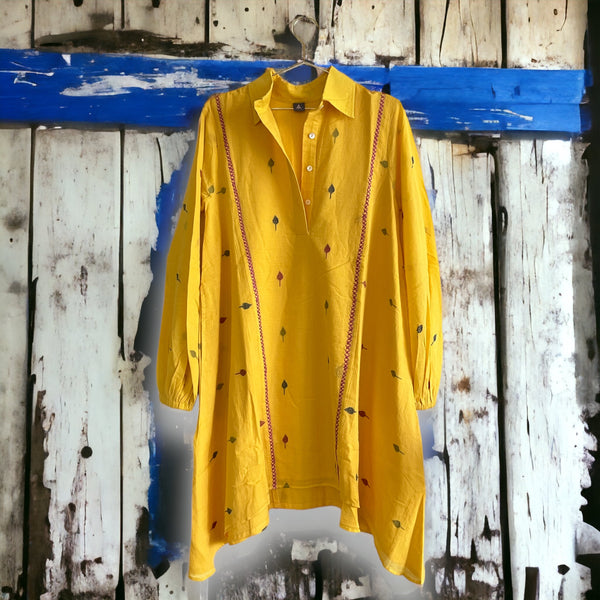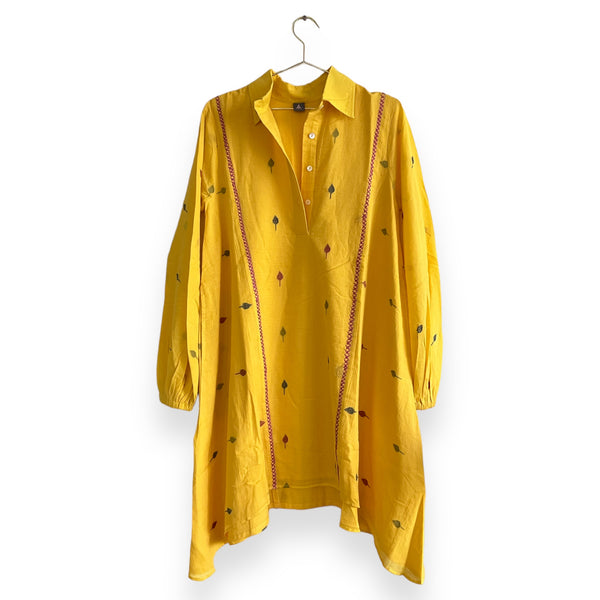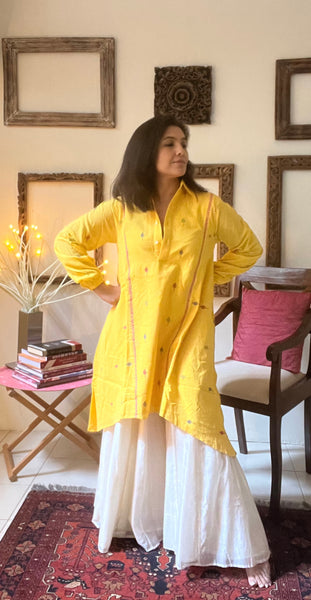 Leela Flared Swing Dress -Sunshine Yellow Jamdani
Love shirt dresses but don't love a boxy vibe? Say hello to Leela, a shirt midi with just the right amount of fit and flare for a feminine touch. With a high-low construction in the back and front,  the Leela flares lower on the sides, giving a sense of movement and fluidity. With straight balloon sleeves, pockets, embroidered detailing, this is a dress is a multi-tasker!  Wear it as is like a dress or with your favourite slim fit or voluminous pants. Three easy looks with one Leela dress!
The Story Behind The Dress :
The muse for this dress is the multi-hyphenate Bengali writer, illustrator, poet, radio producer, Leela Majumdar [1922-94], who was known for her children's books and illustrations , with humour being her key forte. The Leela dress is a playful silhouette for bringing comfort and joy to whoever wears it.
CRAFT HERITAGE

Jamdani weaving is extremely time-consuming and labour intensive due to the intricacy of motifs that are created directly on the loom using the discontinuous weft technique. A dense thread is added by hand to the fine warp threads to create motifs, inlaid into the fabric.
Jamdani fabric for Ayesha has been handwoven in Murshidabad and Purba Bardhaman districts of,West Bengal, India. The motifs have been kept intentionally simple; the 200-count fabric is soft and flows easily, perfect for contemporary, everyday living. The idea is to encourage the adoption of Jamdani fabrics as a sustainable modern fashion choice, while providing employment opportunities for heritage Jamdani weavers and their communities.
 DESCRIPTION
Easy flow and flare 
Generous proportions with tapered fit
Features full length, slightly balloon sleeves with a light elasticated cuff
Embroidery detailing in panels in front and back.
Comes with pockets.
100% Handloom Jamdani [Cotton] . Gentle Handwash or Delicate Wash Cycle is recommended. This is a fine fabric, so care is needed in looking after it. 
 SIZE & FIT [Available in Medium and Large]
Height of Model :5'4"
Fit: Relaxed
Size: M