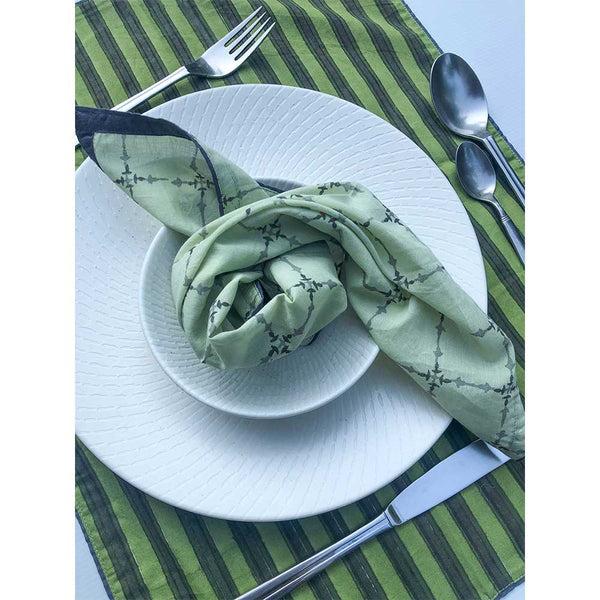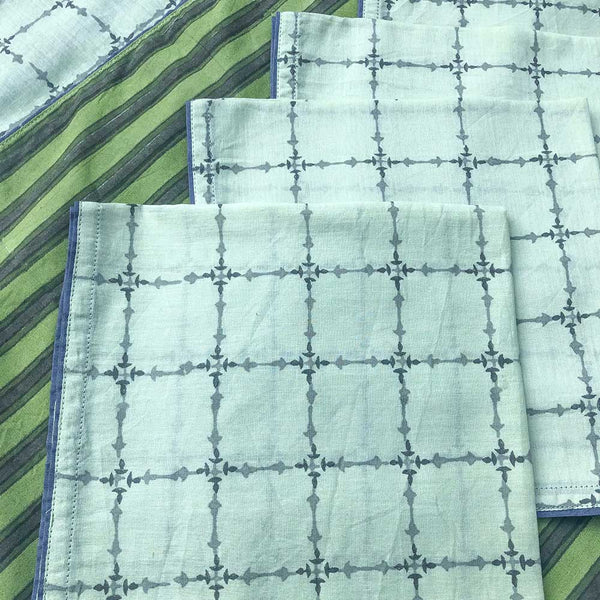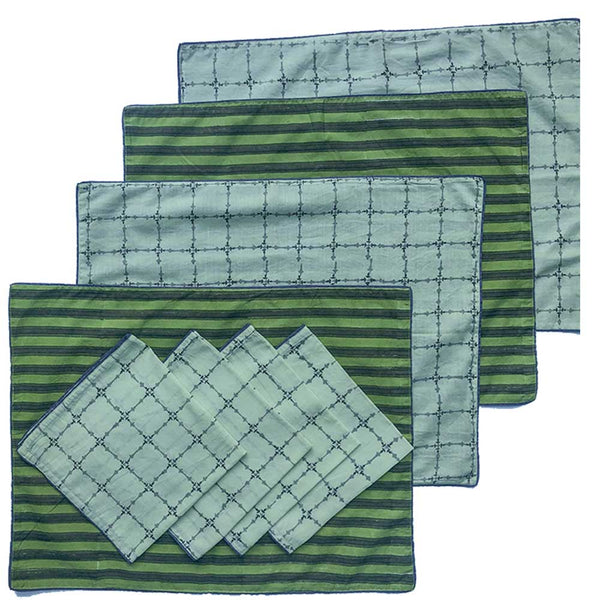 Mix and Match Collection-Green, Black and Grey, Diya and Stripe Placemats with Napkins (Set of 4)
The Mix and Match Tabletop Series is a collection of placemats, napkins, and runners inspired by stories forgotten and familiar, journeys and celebrations, milestones and memories. Because everything we are, is a mix of different influences and collectively, it all just comes together! We have everything we need, right within us! All we need to do is trust ourselves! So translating this life philosophy into textiles calls for a bit of experimentation and fun, an invitation for you to play at your table.
 The mix of motifs that have been used speaks a language of familiarity and hope for the designer, Ayesha, while reflecting elements of her life spent in India and Singapore.
The Diya, or lamp, is traditionally lit during the festival of Diwali or Deepavali by Indians around the world. It symbolizes the victory of light over darkness – and the eternal motif of hope. In this pandemic-struck world, hope is a reservoir; we need to keep replenished constantly. Arranged in a geometric pattern of squares, the Diya print immediately takes on a modern aesthetic, making it compatible with any other print or pattern. The Rangoli print pays homage to the elaborate patterns created using rangoli powders, flowers, and lamps, often at the entrance of homes, during the Indian festivals of Diwali, Onam, and Pongal. The lush Floralscape pattern, along with the Ixora flower and Rose Bud motifs represents the beautiful and lush botanical landscape of Singapore. The Stripe motifs are a simple geometric element that complements the organic shapes of the various floral and traditional motifs, representing structure and weight.
The Mix and Match series has been block printed on 100% cotton by master artisan, Santosh Kumar Dhanopia of Sanganer, Jaipur in India. Several variants in the series have double-sided prints, allowing one to play around with different combinations of table settings. The idea is to have some fun!
Included:
4 Double-Sided Printed Placemats with Diya and Stripe prints.
4 Napkins with Diya print.
Size:

Placemat : 50 x 38 cm  | Napkin : 40 x 40 cm
Material : 100% Cotton
Care: Handwash gently in cold water.