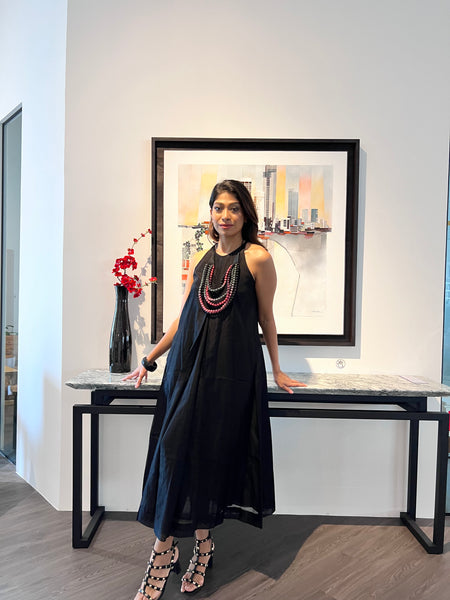 Pandora "Work and Days" Chanderi Dress -Onyx Black
This halter neck A-line handloom cotton-silk dress with an accompanying handmade ombre black and white necklace is the workhorse in every woman's wardrobe. The straight and un-fussy silhouette that can take you from school runs, brunch catch-ups, work meetings to casual date nights. And 
of course, it has pockets.
The Story Behind The Dress : Inspired by Hesoid's Work and Days epic poem, the character of Pandora symbolises womankind and the jar of hope that she holds on to is what humanity strives for. While there are many interpretations of Pandora in the original poem, the one I prefer is that woman who represent's the the catalyst for organised society, one with a civilising influence! And boy, does she have to work all day to achieve that - hence the tongue-in-cheek name - The Pandora Work and Days Dress!

CRAFT HERITAGE

Chanderi , from the town of Chanderi, in central India, is an established handloom center known for its diaphanous and lustrous weaves. The Chanderi fabrics for Ayesha have been developed by artisan weaver, Mohammad Furqan.
 DESCRIPTION
An easy flowing, A-line Chanderi [Cotton-Silk] dress in a onyx black colour.
Features a halter neck, a slit at the back.
Comes with pockets.
100% Handloom Chanderi [Cotton-Silk].  Dry Clean Only.
 SIZE & FIT [Available in Medium and Large]
Height of Model :5'4"
Fit: Relaxed
Size: M