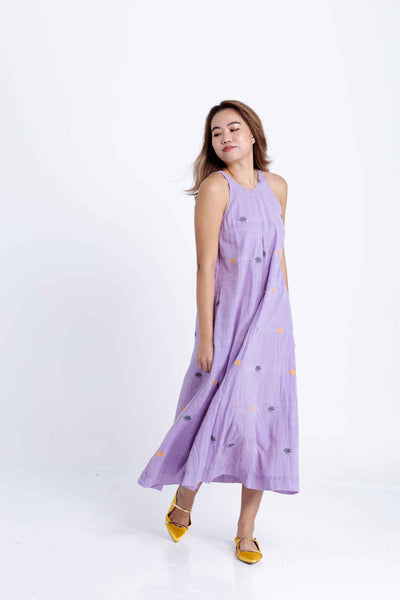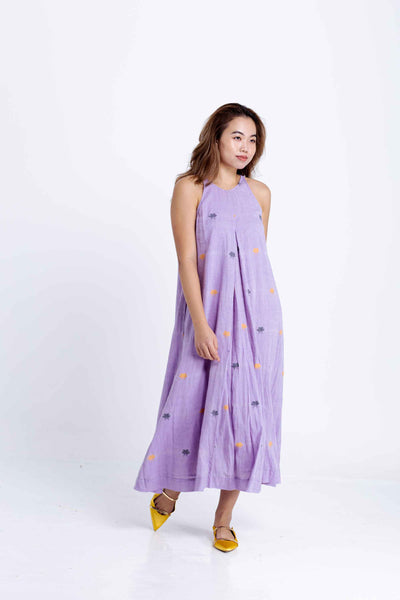 Pandora "Work and Days" Dress -Mauve Jamdani
This halter neck A-line handloom cotton Jamdani with an accompanying handmade ombre black and white necklace is the workhorse in every woman's wardrobe. The straight and un-fussy silhouette that can take you from school runs, brunch catch-ups, work meetings to casual date nights. And 
of course, it has pockets.
The Story Behind The Dress : Inspired by Hesoid's Work and Days epic poem, the character of Pandora symbolises womankind and the jar of hope that she holds on to is what humanity strives for. While there are many interpretations of Pandora in the original poem, the one I prefer is that woman who represent's the the catalyst for organised society, one with a civilising influence! And boy, does she have to work all day to achieve that - hence the tongue-in-cheek name - The Pandora Work and Days Dress!

CRAFT HERITAGE

Jamdani weaving is extremely time-consuming and labour intensive due to the intricacy of motifs that are created directly on the loom using the discontinuous weft technique. A dense thread is added by hand to the fine warp threads to create motifs, inlaid into the fabric.
Jamdani fabric for Ayesha has been handwoven in Murshidabad, West Bengal, India. The motifs have been kept intentionally simple; the 200-count fabric is soft and flows easily, perfect for contemporary, everyday living. The idea is to encourage the adoption of Jamdani fabrics as a sustainable modern fashion choice, while providing employment opportunities for heritage Jamdani weavers and their communities.
An easy flowing, A-line Jamdani [Cotton] dress in a mauve colour.
Features a halter neck, a slit at the back.
Comes with pockets
Has an accompanying bead necklace.
100% Handloom Jamdani [Cotton] . Gentle Handwash or Delicate Wash Cycle is recommended. This is a fine fabric, so care is needed in looking after it. 
 SIZE & FIT [Available in Medium and Large]