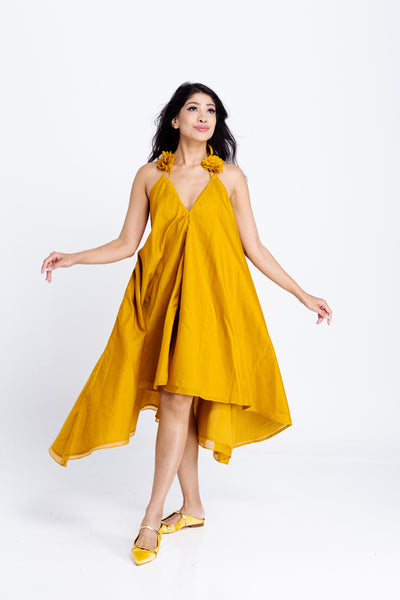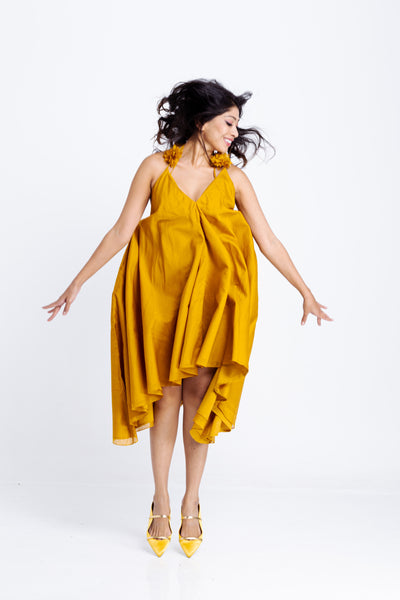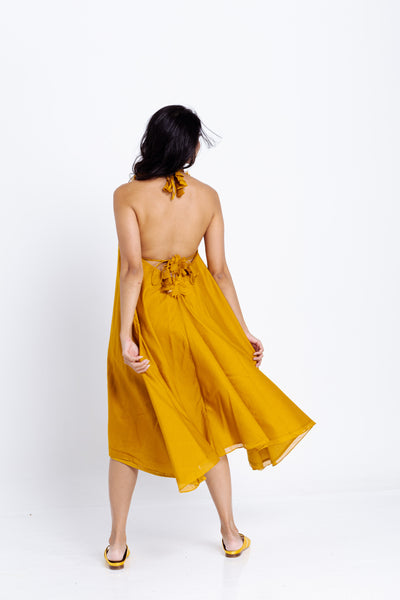 Twyla Backless Strappy Dress with Bralette Top - Mustard Yellow Chanderi
Want a backless dress, but want the comfort of a bra as well? Say hello to the fun and flattering backless strappy dress with a bralette top. Plenty of straps to get the fit that's comfortable for you. It's free size, fits every body size, super comfy, great flow and gets you into a happy place at once! The Mustard Yellow colour with the luxurious feel and flow of handloom Chanderi [cotton-silk] fabric gives an elevated luxurious look. The high-low silhouette gives the dress a fun flow! Time to go and party!

 The Story Behind The Dress : Popular American dancer, director and choreographer, Twyla Tharp's had a significant influence on modern dance by being a pioneer in combining classical ballet with contemporary movements. This dress is inspired by her creative mind and vision. In her book , Creative Habit, the first chapter is titled "I walk into a white room". Now imagine wearing this playful yet sensual dress, with its rich mustard hue and feminine tassels and walking onto an empty canvas. The flow of the Twyla dress encourages you to move, jump, dance,  twirl, reminds you that you are the director and choreographer of your own canvas that is called life. 
CRAFT HERITAGE

Chanderi , from the town of Chanderi, in central India, is an established handloom center known for its diaphanous and lustrous weaves. The Chanderi fabrics for Ayesha have been developed by artisan weaver, Mohammad Furqan.
This free size strappy dress sits comfortably on all body shapes fun tie-ups that will adjust to the fit you want. 

The hemline is lower at the back, rising in the fun, making for a fun and flattering look.
Comes with pockets.
Knee Length for model [5ft, 4inch]
High-Low
100% Handloom Chanderi [Cotton-Silk Mix]. Dry Clean Only
SIZE & FIT
Fit: Relaxed
Size: Free Size