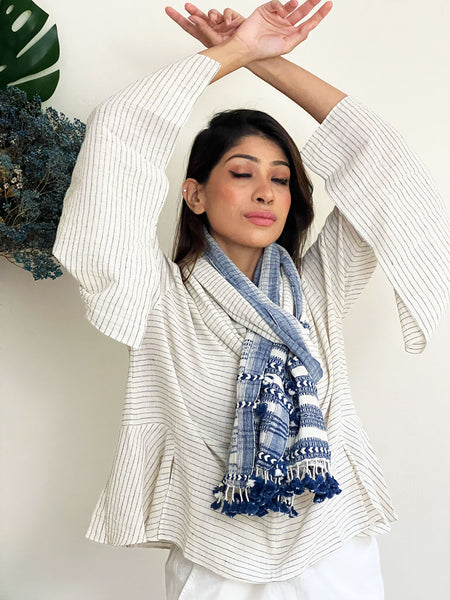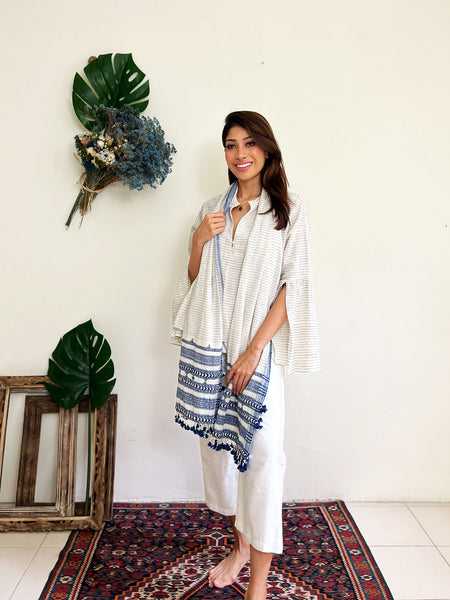 Kala Cotton Wild Sleeves Flared Top and Bhujodi Scarf - Blue and White
A feminine silhouette with a surprising sleeve detail - flares with unexpected slits for easy movement. This is a fun wardrobe addition in a lightweight fabric that makes you feel fluid, with the freedom to go anywhere, just like the sun and rain in Mary Oliver's Wild Geese poem-
"Meanwhile the sun and the clear pebbles of the rain

are moving across the landscapes
over the prairies and the deep trees,
the mountains and the rivers.
CRAFT HERITAGE
This top is made from "Kala Cotton", a fabric that is indigenous to the region of Kutch in Gujarat, India. The farmers growing this cotton do not use any pesticides and synthetic fertilisers. As a purely rain fed crop, with a high tolerance for disease and pests, requiring little investment, Kala Cotton is a resilient crop. The fabric formed is not considered to be the finest to the touch, but in slightly cooler times of the year, the heavier weight of the weave, keeps the body feeling cozy and comfortable.
The accompanying scarf, also made of Kala Cotton, has been woven in the Bhujodi style of weaving, a 500-year old weaving tradition in the Kutch region. The signature element of the Bhujodi technique is the use of yarn dyed in natural colours, woven with simple geometric motifs.
COMPOSITION & CARE

100% Handloom cotton. Hand wash cold with similar colours. Do not bleach. Do not soak.  Do not wring. Dry in shade in reverse. Iron on reverse.
 SIZE & FIT
Height of Model :5'6"
Fit: Relaxed
Size: M